We are now living in an unsafe world that is surrounded by break-ins and terrorists, so we need something reliable and responsible to keep an eye on our sweet home, nowadays home security camera is common in most of families because of its easy installation and affordable price, which is a great item to protect families and personal assets and to keep away from some unexpected dangers such as fire.
Most of home secure camera is not made visibly like commercial surveillance, while they are compact and portable, can be put on the shelf or table if you want it an indoor one, an outdoor unite can be installed in the high for monitoring the front porch, garage or rear door. For your checking on anytime and anywhere, the vendor has come up with lots of good features, such as wireless connection with smart application, two-way talk, live video recording and night version, which allows you to have a good and quick knowledge of what happens at your home. If you want to go for a home security camera, following are 4 economical and good quality items and let's see which one interest you the most.
1. FirstPower Wireless 960P IP Bulb Camera WiFi Home Security Surveillance Camera 360 Degree Fisheye Lens Panoramic with Night Vision, Two Way Talking, Motion Detection for the Elder Baby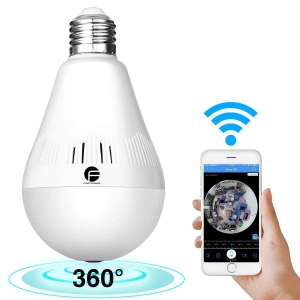 In order to perfectly blend in your home decoration, this item functionally combines bulb with camera perfectly, equipped with 360 Degree Fish-eye lens and sonic recognition technology, it is able to catch a wide coverage of space following 4 different perspectives that include bowl angle, split angle, cylinder angle,detailed angle and provide real-time video when you are far away from your home, an ideal item to keep an eye on what you care about. Built-in microphone allows you to speak to your family or other unexpected visitors, making you stay connected anytime and anywhere. Backed up with Infrared night version that covers a space up to 25 ft, this product provides a good solution to safeguard your home from unexpected intruders, and send an alert to your phone in time. Large capacity TF card supported up to 128GB for your versatility, it starts recording as soon as you put an SD card inside and produce new clips to replace the old one uninterruptedly.
2.  FirstPower 1080p Wireless IP Security Camera with Night Vision support Two-way communication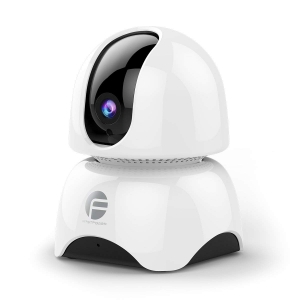 A decent image results from a wide-angle lens(120°) and high resolution(1280*720Pixel), which helps you to catch more details, comes with pan ability(0- 350 degree horizontally), tilt ability(0- 76 degree vertically), 4x digital zoom capability and 8 presets for a complete viewing of your home. Two-way audio & real-time video are both necessary feature for a Wi-Fi security camera, maybe you are worried about your private information if your home security is linked wirelessly, with this home camera, all of your personal data will be stored on the local storage card rather than servers or manufactures. You will be also reassured with IR night vision which allows for recording images in low or no-lightness situations, then you will receive phone notification or E-mail alarm t in time once unexpected visitors break in your house.
3. Canary View Indoor 1080p HD Security Camera with Wide-Angle Lens, Motion/Person Alerts, Works with Alexa, Pets/Elder/Baby Monitoring, Award-Winning Design – Graphite (CAN400USAGY)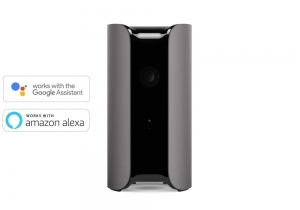 A compact and low-profile indoor camera has no complicated installation for seconds of connection with your phone, just put it on a shelf or table and plug it in, connect with Wi-Fi and all systems go. Featuring 1080p HD video, it offers a high-clarity image from the dawn to dusk, also including 147°wide-angle lens, night vision with image pan and zoom. Different from other home cameras, it does provide a free chance of streaming cloud video which is encrypted with secure web transfer (SSL/TLS) and AES 256-bit data encryption, and a monthly membership is provided if want more security. Additionally, embedded AI technology and machine learning to filter out insignificant motion, identify important activity, and only alert you to what matters. Even designed with one touch emergency access, you can contact local emergency services immediately via application if something unusually happens.
4. Arlo Technologies by NETGEAR Security System – 1 Wire-Free HD Camera| Indoor/Outdoor | Night Vision (VMS3130), Works with Alexa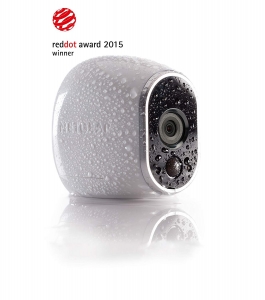 Arlo home security camera is a wire-free camera as it states, it can be installed inside and outside as you want due to its weather-resistant body, it allows for more camera installation up to 5 cameras if you have a budget, which is a good feature over other security cameras, like other typical camere, it includes night version, motion detection and application connection, high-resolution image with stunning details is offered with HD camera, since it is advertised a smart camera, it captures clips and send alerts only when motion is detected so you won't be troubled by frequent unnecessary notifications. Moreover, it works with Alexa for voice control.
http://www.firstpowerr.com/wp-content/uploads/2018/10/EY-ST0004WE-7.jpg
175
355
firstpower
http://www.firstpowerr.com/wp-content/uploads/2018/08/图层0拷贝2-300x90.png
firstpower
2018-10-11 09:33:26
2018-10-25 05:47:25
4 Well-invested Home Security Cameras that you can't miss